Category: TRON Questions
Step 1 – Preparing your TRX tokens
Get TRX from exchanges and deposit it to your TRON Wallet. Open it up to confirm that your balance is showing correctly. Alternatively, from the main wallet screen go to the Finance tab to see all available tokens that can be staked on your Trust Wallet. You will see here TRON (TRX), tap on it to go directly to the TRON Wallet.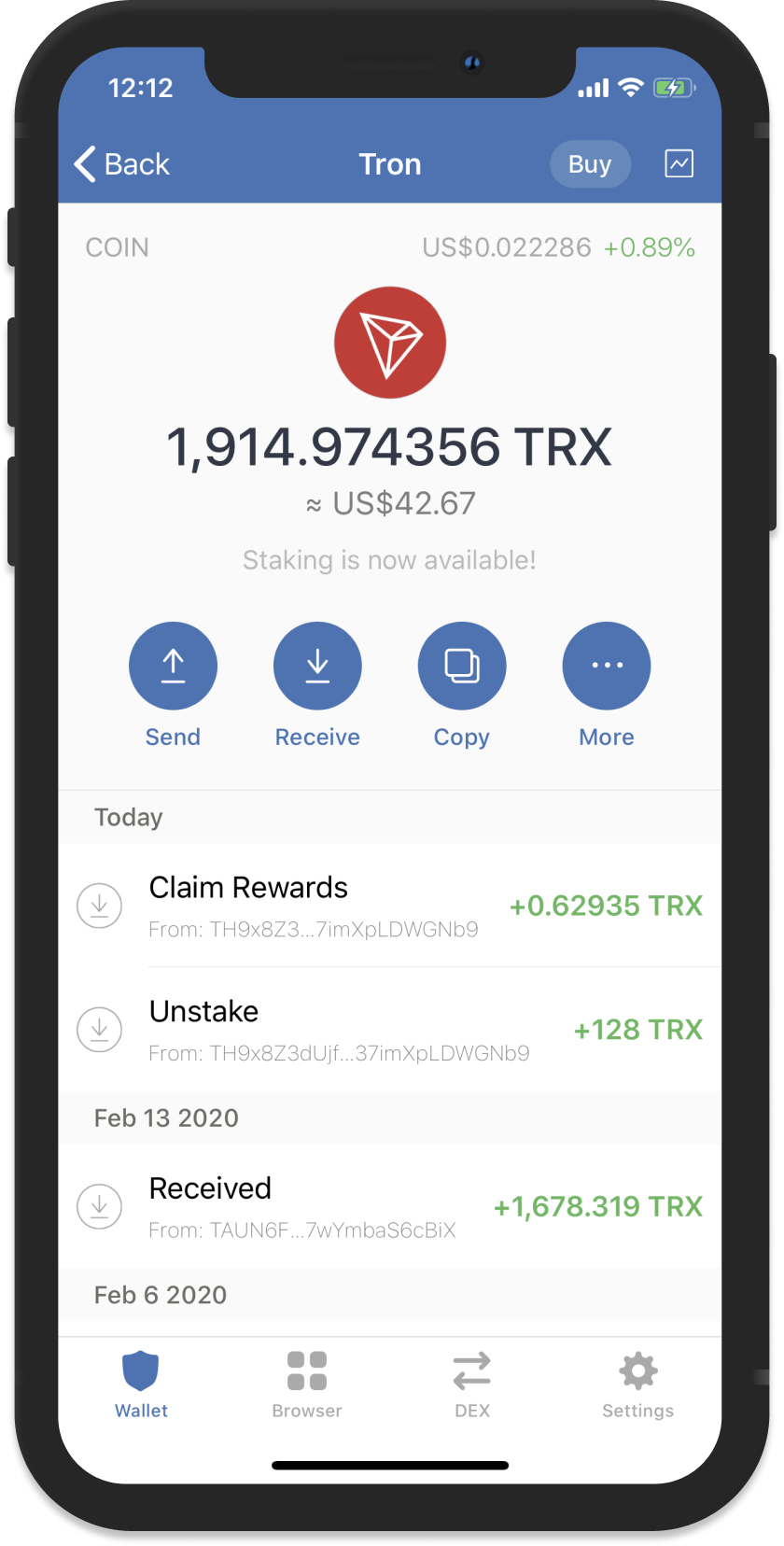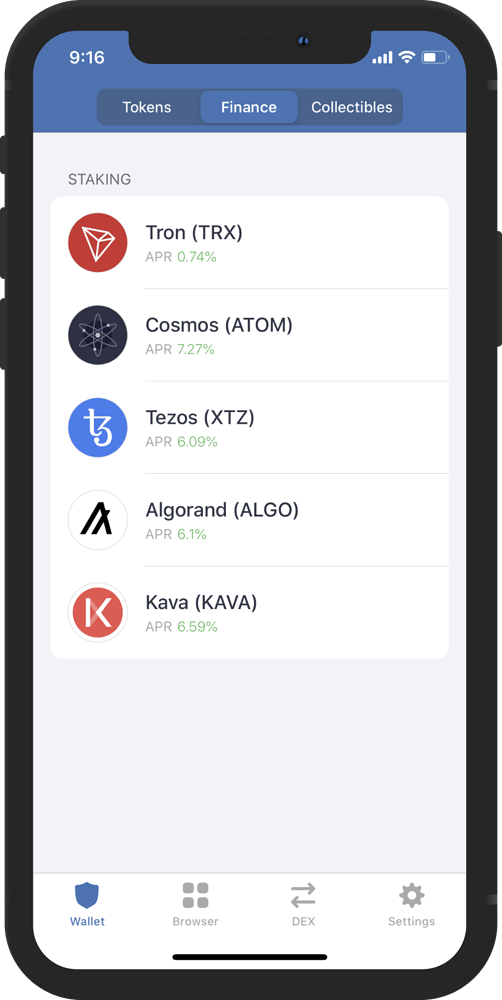 Tip!
If you do not see TRX on your wallet, Tap the "+" sign on the upper right and search for TRX, then use the toggle to add the token. You can add the SPADES Token in the same way, click the "+" sign on the upper right and search for SPADES.
Step 2 – Access the Staking Menu
Tap on More to access the Staking Menu. You will see here the following options:
Stake Details – View more information about staking TRON and your current staking status.
Unstake – Go here if you want to unstake your tokens and stop getting rewards.
Claim Rewards – Claim the generated rewards via staking.
Step 3 – Choosing a Validator
Enter the amount you want to stake or tap on Max to select all tokens. Minimum amount is 1 TRX . You need to have some Available tokens to pay for the fees, which is at least 1 TRX. Chose your desired Validator, then tap on Next.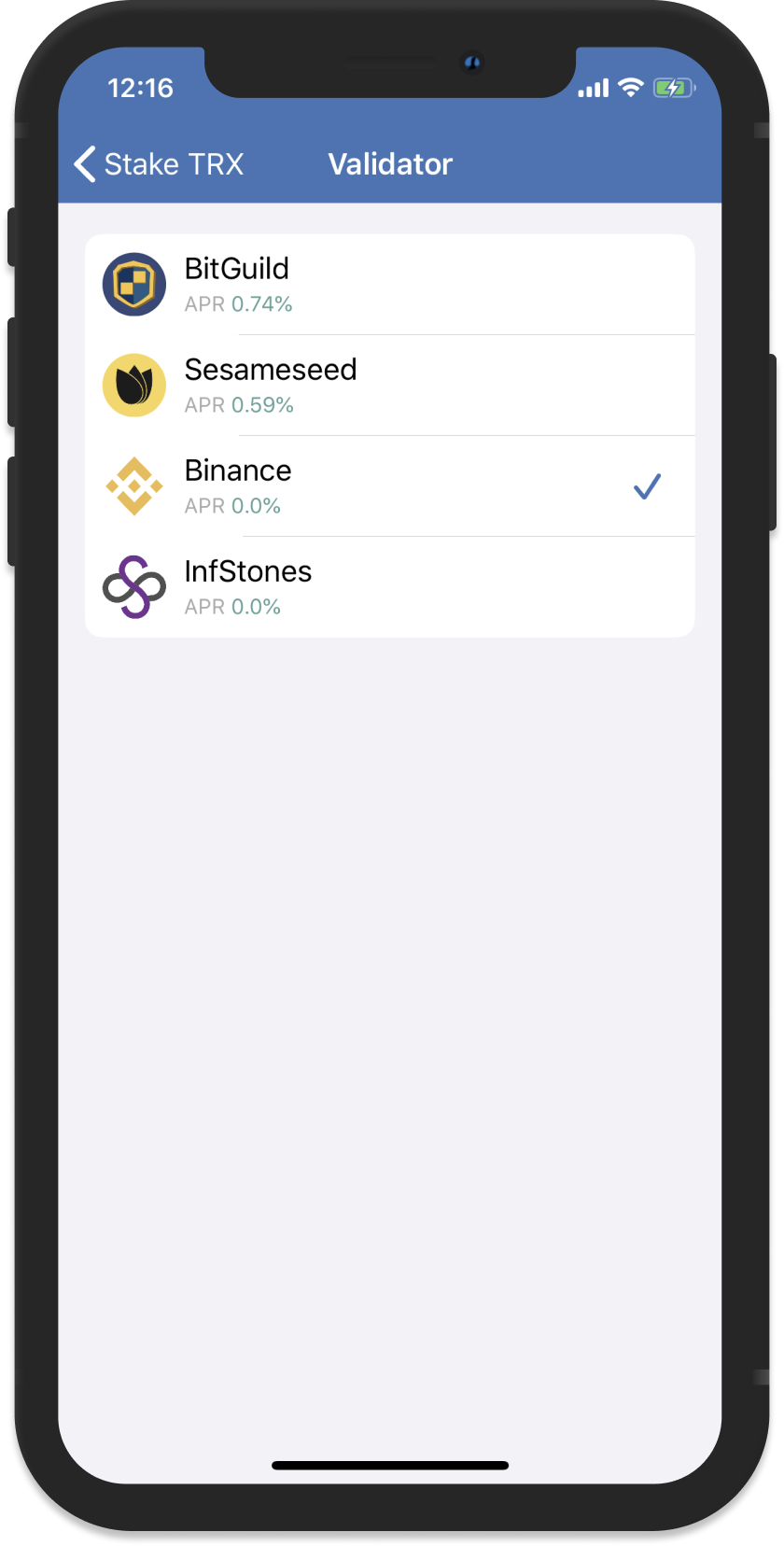 Warning!
Before you continue, please be advised of the following:
Your TRX will be frozen for 3 days.
You cannot move/transfer your frozen TRX tokens.
After 3 days, you can unfreeze your tokens. You can also just leave them frozen to continue getting rewards.
Freezing additional tokens will reset the 3 day freeze time.
Step 4 – Send Transaction to the Network
Review the transaction details. Tap on Send when you are ready to proceed,.
The screen will automatically go back to the TRX wallet. A Pending message will appear while the network confirms the transaction.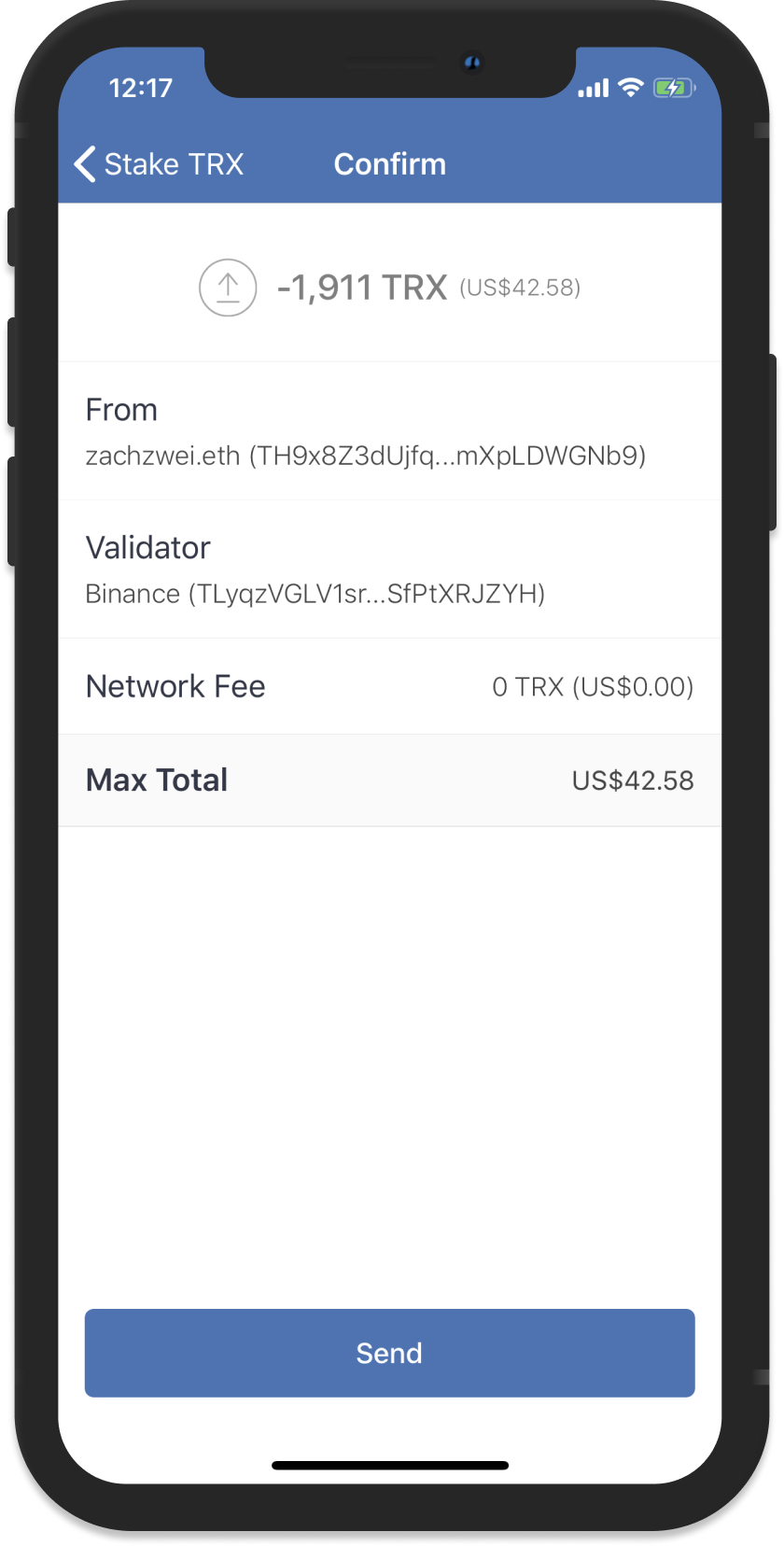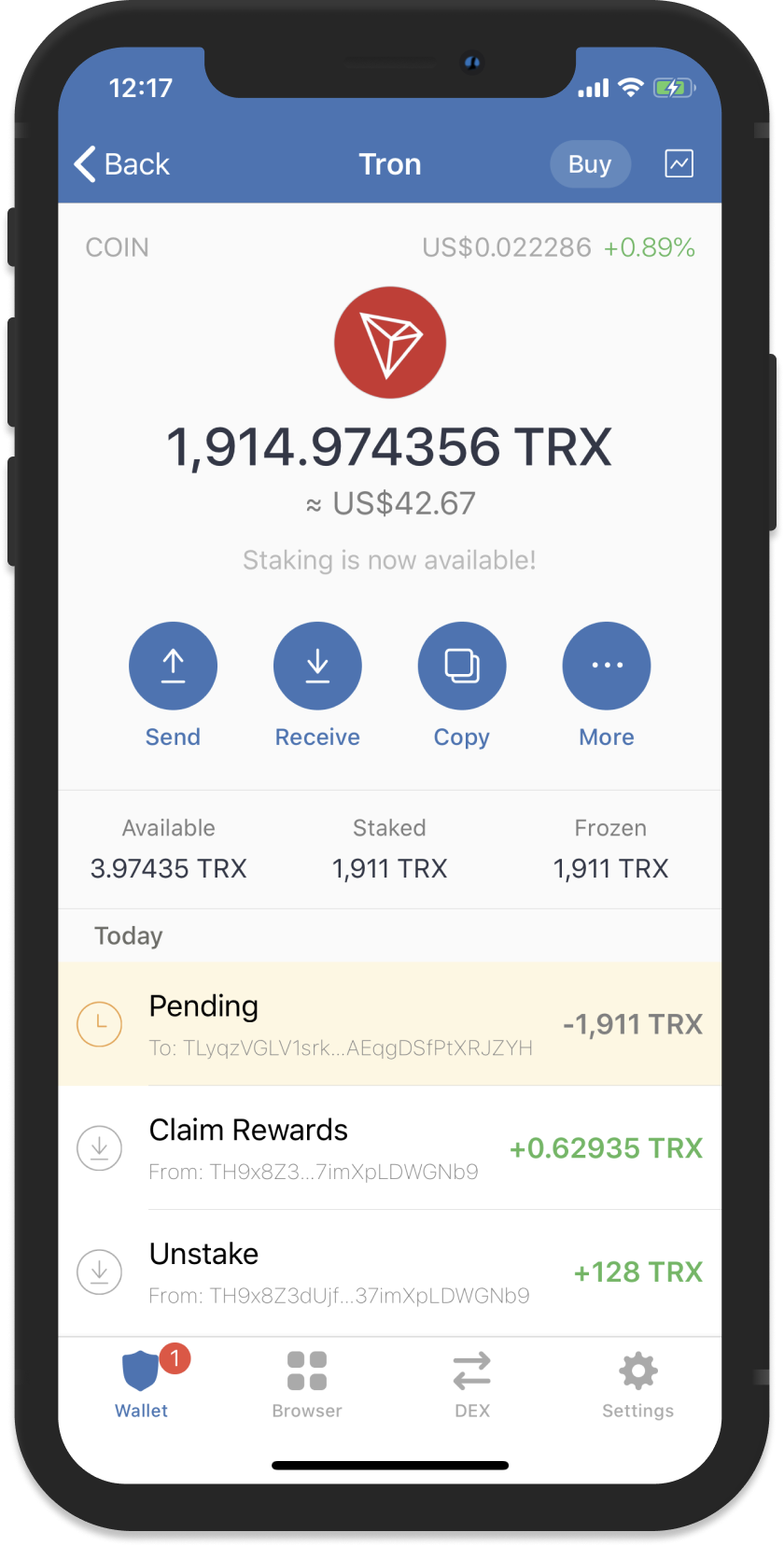 Step 5 – Confirming the Transaction
Once the staking process is complete, the TRON wallet will automatically display the tokens that are Staked and Frozen. You can verify this further by tapping on More and then tap on Stake Details. Congratulations, you are now staking your TRX tokens.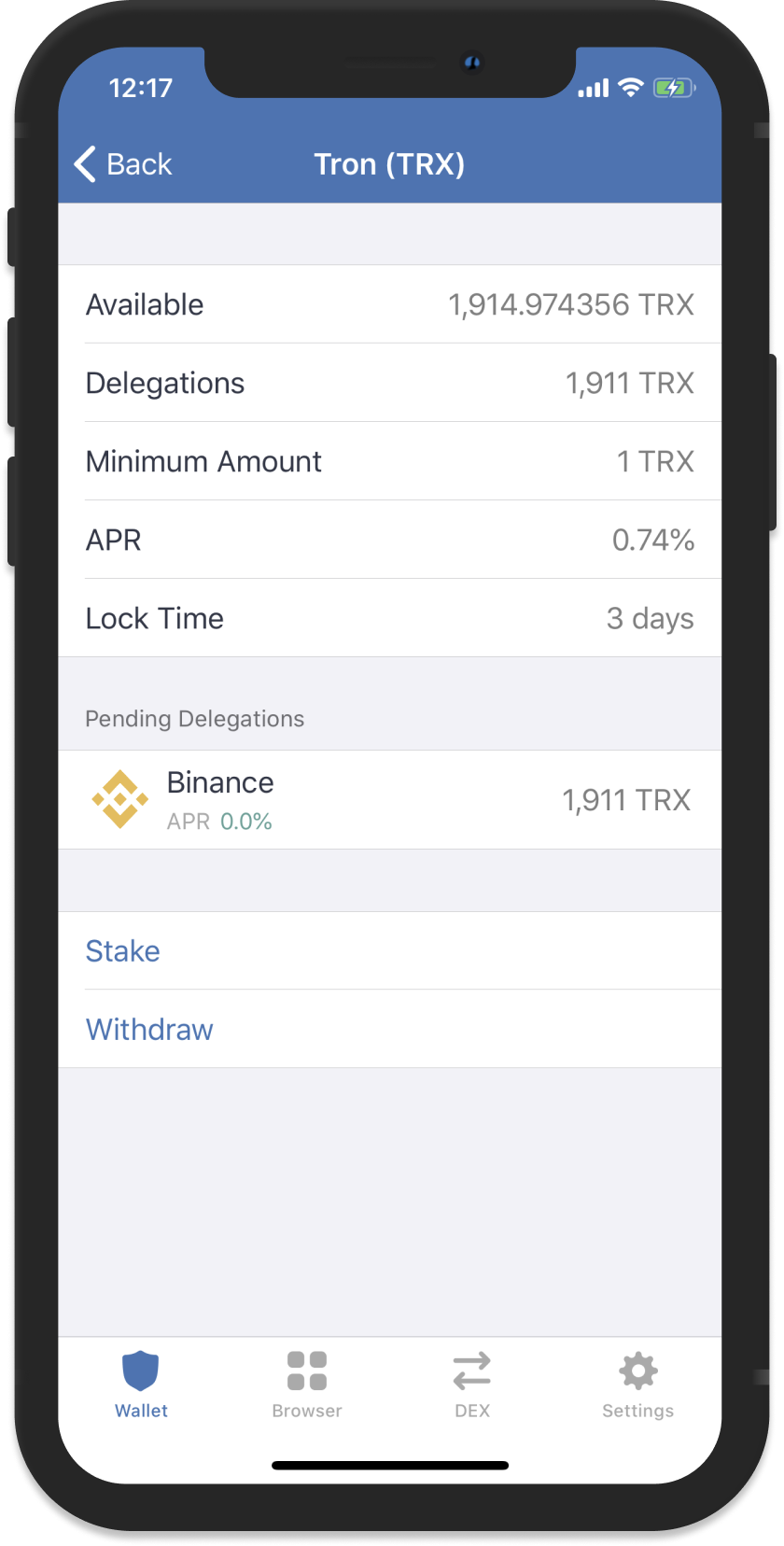 You can view your staking status by going to this explorer: https://tronscan.org/ and then do a search for your Tron address.